Last updated on May 9th, 2018 at 02:36 am
I've been obsessed with swiss chard lately adding it to a bunch of dishes.  This is my latest one that I made this morning.  I've always loved eating scrambled eggs, more than sunny side up, so I thought why not add some delicious goat cheese in there too?  Ah what a great decision that was! I just love the creaminess and tartness of goat cheese.  It also blends so well with eggs!
I decided to eat this scramble with some of my gluten-free bread.  I made a new batch this morning and I actually decided to add a bunch of seeds in the batter! I added sesame seeds, quinoa, sunflower seeds, chia seeds, and flax seeds! Super delicious!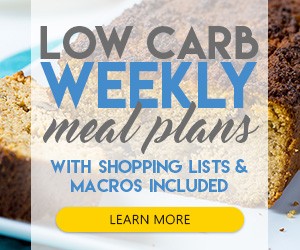 I've mentioned in my PCOS diet post that I do eat dairy, but only from Jersey cows, goat and sheep.  I especially love goat cheese, not only for its amazing flavour, but also because it doesn't contain the A1 casein that Holstein cow products usually contain. Moreover, this scrambled dish is perfect because eggs and cheese don't contain a lot of carbs so each serving only has 4.59g of carbs! Perfect for breakfast!
Swiss Chard & Chevre Scramble
A creamy, vegetable-full, version of the traditional scrambled eggs.
Ingredients
Instructions
Thinly chop the onion and slice the mushrooms and swiss chard into large pieces.

In a large frying pan, add the ghee and heat on medium heat.

Add the onions and cook until soft.

Add the mushrooms and swiss chard. When the swiss chard starts to wilt, crack the eggs open into the frying pan. Sprinkle the salt and pepper over.

Mix with your spatula until the eggs are scrambled. When the eggs are practically cooked, add the goat cheese and mix carefully.

Transfer to a plate and enjoy!
Nutrition Facts
Swiss Chard & Chevre Scramble
Amount Per Serving (1 serving)
Calories 313
Calories from Fat 218
% Daily Value*
Total Fat 24.24g 37%
Cholesterol 460mg 153%
Sodium 298mg 12%
Total Carbohydrates 4.59g 2%
Protein 19.66g 39%
* Percent Daily Values are based on a 2000 calorie diet.