Last updated on April 23rd, 2018 at 03:37 am
I have been working on making some paleo tortilla wraps for a little while now and finally came up with a really easy recipe! In order to make wraps stretchy and soft, you do have to use some starch like tapioca
or arrowroot
.  These wraps are made with almond flour
, tapioca flour
and almond milk
.  I started trying to make the wraps using minimal tapioca flour
, but they just wouldn't hold together.  I then added a tbsp (7g) more to the batter until they held together perfectly, were stretchy and wouldn't fall apart.  By adding 63g, the wraps were just stable enough to wrap around food, but would rip a little apart.  I think between 70-77g of tapioca flour
is best to have perfect stretchy soft tortillas! Because this recipe uses almond flour
and almond milk
instead of flour and dairy, the carbs aren't very high!  Also, this is totally optional, but to lessen the calories I chose to use a paper towel and slightly brush the olive oil
on the pan just so that it doesn't stick, but I did make the first batch with 1 tsp of olive oil
per tortilla.  When you cook the tortillas in the olive oil
, they kind of become oily and crunchy like Indian roti! It's really delicious, but if you're looking to cut down calories, I suggest only brushing a little bit of oil instead of frying them in oil.
You can choose to either make about ten 15cm wraps, or about five 25cm wraps.  Each small wrap is about 7.16g net carbs and 96 calories! Not bad at all! I decided to make wraps because the other day I created this avocado basil garlic paste to use for spreads, dipping sauce or dressing, and I kid you not it tasted like shawarma garlic sauce.  So I've been wanting to make myself a chicken shawarma sandwich!  I bought some turnips the other day and pickled them (recipe here), and once they are done, I'll be able to make myself a chicken shawarma sandwich using these wraps, the avocado spread, shawarma chicken and pickled turnips! The recipe can be found here!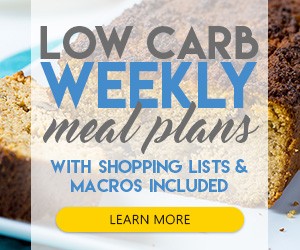 Paleo Tortilla Wraps
Super stretchy and soft paleo low carb tortilla wraps!
Ingredients
Instructions
In a bowl, mix together the tapioca, almond meal, almond milk, salt, and olive oil.

Heat a NON-STICK frying pan or a

non-stick crepe pan

on medium-heat. With your kitchen paper, lightly absorb some of the oil and brush it against the pan.

Add about 1 small laddle (around 4-6 tbsp of batter) to the hot pan, and immediately roll it around the pan with the help of the back of your laddle to create a 15cm diameter circle. Heat 30-50 seconds and flip. Heat 30-50 more seconds and transfer it to a plate. Repeat until all of the batter has been used.

You can cool them completely and store them in an air-tight container in the fridge or freezer for a later use.
Recipe Notes
You can make ten 15cm wraps, or about five 25cm wraps.
Buy the equipment used here:
  T-fal A80715 Specialty Nonstick Giant Round Pancake Griddle Cookware, 13-Inch, Black
Nutrition Facts
Paleo Tortilla Wraps
Amount Per Serving (1 tortilla)
Calories 96
Calories from Fat 61
% Daily Value*
Total Fat 6.78g 10%
Sodium 25mg 1%
Total Carbohydrates 8.06g 3%
Protein 1.63g 3%
* Percent Daily Values are based on a 2000 calorie diet.