Last updated on April 23rd, 2018 at 03:43 am
October is probably one of my favourite month because it means I get to cook a bunch of different pumpkin themed dishes! I warned everyone on Facebook that I'd be making a lot of pumpkin recipes this month and I introduced a low carb Kabocha cheesecake last week, but since Halloween is coming up soon and there was the Canadian Thanksgiving and the American one is coming up next month, I thought this would be a great time to introduce you to my Paleo Pumpkin Pie recipe!! It's actually super easy to make as you just need to mix everything together and bake it, but I also decided to make a video tutorial for this recipe!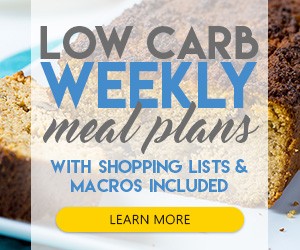 What's funny is I actually found a can of pumpkin in a foreign foods store downtown, and I had used half of it to make pumpkin meatballs and I thought of using the other half for the pumpkin pie but then when it came down to making the pie, I realized that it wasn't enough so I made this pumpkin pie using a cup of pumpkin puree and a cup of kabocha puree! You can see it in the video tutorial.  Just know that you can use either or, or a combination of both.  They both taste delicious!
The crust is based off Elana's Pantry's Paleo crust, but I added a few spices and instead of coconut oil, I used lard.  I usually use beef tallow in the crusts I make, but I ran out so I used lard instead.  It doesn't change anything and it works just as good! I decided to make this pie totally dairy-free as a lot of readers have been asking me to make more recipes that are dairy-free. You can totally use heavy whipping cream instead of coconut cream, it won't make a difference.  I was actually surprised because the coconut cream doesn't leave any coconut flavour, which is really nice because I'm really not fond of coconut.  It's also another reason why I don't like to use coconut oil in the pie crust.
*NEW RECIPE*I told you guys I'd be uploading a bunch of pumpkin recipes!! Here is my latest recipe for a Paleo Pumpkin Pie! You will love it! It is completely gluten-free, sugar-free & dairy-free! Great to have on Thanksgiving, Halloween or Christmas 🙂 The pie makes 8 slices and each slice is 322 calories and 7.65g net carbs.Btw, I ran out of pumpkin puree which is why I used kabocha! Haha, I'll have to get more pumpkin cans for next time!Recipe: http://www.mypcoskitchen.com/paleo-pumpkin-pie/Pin it: https://www.pinterest.com/pin/349591989809410528/

Posted by My PCOS Kitchen – Low Carb Recipes on Monday, October 10, 2016
Paleo Pumpkin Pie
The best dairy free pumpkin pie you'll ever make!
Instructions
In a bowl, combine the almond flour, lard, egg, cinnamon and salt together. Mix with a spatula until the batter starts to stick together and start kneading with your hands until a ball forms.

Place the dough over a piece of parchment paper and cover with another piece of paper. With a rolling pin, roll out the dough over the paper until it forms a circle that is about 10-11" for a

9'' glass pie plate

. Peel the top parchment paper and flip the dough onto the 9" pie plate making sure all sides are covered. Peel the parchment paper and fix any issues you may have with the extra dough that falls on the side.

Preheat the oven to 200C/400F.

In a large bowl, combine the pumpkin puree, stevia powder, cinnamon, cloves, cardamon, ginger and nutmeg. Mix with a whisk until combined. Pour the coconut cream in and mix again. Add your eggs one at a time while mixing until all of the batter has been incorporated.

Pour the batter into the pie plate and place in the oven. Bake for 50 minutes. Take it out of the oven and let completely cool before serving.
Recipe Notes
Get the equipment used here:
Pie Plate,2-Pc Set,9",Glass
Nutrition Facts
Paleo Pumpkin Pie
Amount Per Serving (1 slice)
Calories 322
Calories from Fat 248
% Daily Value*
Total Fat 27.5g 42%
Cholesterol 109mg 36%
Sodium 147mg 6%
Total Carbohydrates 13.25g 4%
Protein 10.29g 21%
* Percent Daily Values are based on a 2000 calorie diet.