As an Amazon Associate I earn from qualifying purchases. This post may contain affiliate links, view our disclosure policy for details.
These delicious Garlic Croutons use the 90-second bread recipe, are entirely gluten-free and low-carb!
Homemade garlic croutons are the best thing that will happen to you today! Seriously, you have to make this recipe! Once you make it, you'll understand why I say it's seriously the simplest of recipes! I made a huge batch of them this week and have been using them on all of my salads and soup for the week!
They can be a little addicting if you're looking for a crunchy snack so be warned!! I sometimes snack on pork rinds when I feel like eating chips, but these littles guys here can be the perfect substitute!
Gluten Free English Muffin
This recipe for garlic croutons actually uses the 90 second bread recipe. If you've never tried it, you must! If you make it in a mug, you can have yourself a nice gluten-free English muffin ready in less than 2 minutes! You can use any type of heat-proof dish to make the 90-second bread.
For this recipe, I just used a square Tupperware because I wanted my croutons to have a square and even shape. I have made this garlic croutons recipe before in a mug, but not all the croutons ended being the same side so I much prefer making it in a Tupperware.
Now I actually doubled the recipe because I wanted to make a decent amount of low carb croutons. I microwaved my recipe for 3 minutes total and that was more than enough time to make these gluten free croutons!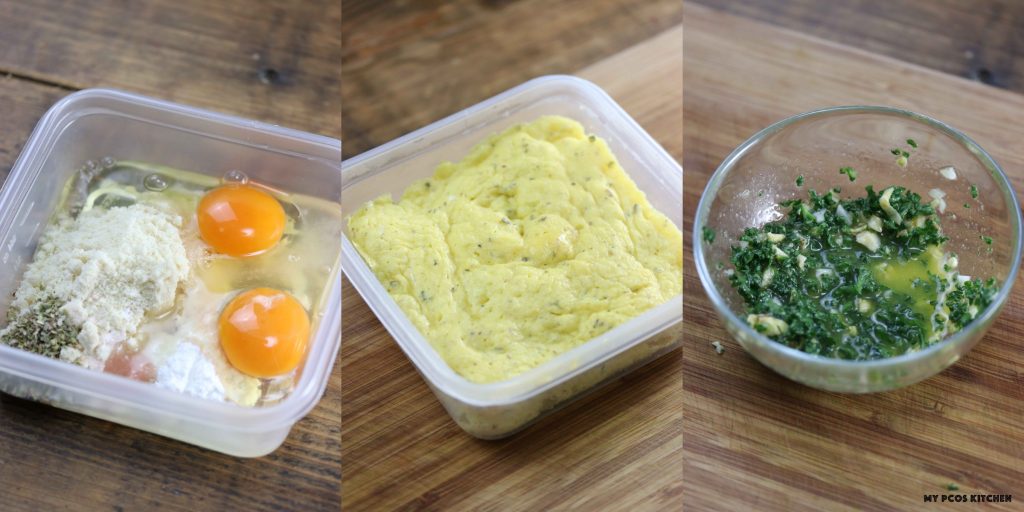 How to make Homemade Croutons
Making homemade croutons is actually pretty simple! It's similar to how you make low-carb tortillas and bread. Once you have made your gluten-free English muffin, you just need to cut it up into cubes the size of your choice, add the seasonings and butter, cover everything in it and toast it for a few minutes!
You can season these homemade croutons with any combination of spices you want! For this homemade croutons recipe, I used some butter, garlic, parsley and parmesan. You can alternate between different oils like olive oil or coconut oil if you wish to do a dairy free version.
As for the spices, I definitely think you should add some garlic and a type of green herb. I chose parsley for this recipe, but you can use something like oregano, thyme, rosemary or even sage. Make sure that all of your bread cubes are nicely coated in your fat before adding the seasonings as they may have a hard time sticking to it!
Low Carb Croutons Uses
Having low carb croutons on hand can be pretty handy. Not only can you add them over any type of salad for crunch, you can add them over soups, stuff them in any type of bird, add them over pieces of meat or fish for crunch or even on pasta (low carb of course).
Top them over this Shrimp Caesar Salad which uses this Homemade Caesar Dressing if you miss eating the traditional crunchy salad. An even better idea is to top them over this Low Carb Olive Garden Zuppa Toscana or my healthy cauliflower soup! When adding them to this soup you get an amazing crunch from the croutons and the bacon! That is heaven on Earth right there!
Low Carb Gluten Free Garlic Croutons
These delicious croutons are made in the microwave and are ready in less than 20 minutes!
Ingredients
Gluten Free English Muffin
Instructions
In a square tupperware (sandwich size) or any other heat proof dish you own, add all of the English muffin ingredients. Mix really well with a small whisk until smooth.

Add the tupperware to the microwave and heat 3 minutes at 600W. After 3 minutes, if the center is still raw, add another 30 seconds until the center is completely cooked.

Take out of the microwave and let it cool down a bit.

Flip the tupperware over and take the microwaved bread out. With a bread knife, cut the square into two horizontally. Cut the two slices into cubes of your desired size. Add the cubes to a bowl.

Mince the garlic cloves and the parsley. In a small bowl, add the butter. Put it in the microwave and heat until melted.

Add the parsley, garlic and salt to the melted butter. Mix. Pour the butter all over the croutons and carefully mix with a spoon. You want to try and coat all of the croutons with the melted butter and seasonings.

Add the croutons to an oven tray and make sure they're not piled up over one another. Add to an oven or toaster oven at 180C/350F and bake for 12-15 minutes, until golden brown.

Take the tray out of the oven and let the croutons cool down completely before serving them. You can then add the parmesan if you want to use some!
Follow me for more Low Carb Recipes!
Mention @MyPCOSKitchen so that I can see all of your goodies!!
Nutrition Facts
Low Carb Gluten Free Garlic Croutons
Amount Per Serving (1 portion)
Calories 151
Calories from Fat 130
% Daily Value*
Fat 14.41g22%
Polyunsaturated Fat 0.52g
Monounsaturated Fat 1.88g
Cholesterol 72mg24%
Sodium 312mg14%
Potassium 29mg1%
Carbohydrates 2.46g1%
Protein 3.87g8%
NET CARBS 1.46g3%
* Percent Daily Values are based on a 2000 calorie diet.
Nutritional information is provided through calculations made on fatsecret.com. They are approximate only. We cannot guarantee the accuracy of the nutritional information given for any recipe on mypcoskitchen.com. Sugar alcohols are included in the fiber count. Net carbs are the total carbs minus fiber (which include sugar alcohols).
All text, pictures & videos are copyright protected © by Mira Richard-Fioramore for My PCOS Kitchen.
Shares are very much appreciated, just make sure to share a link and not a screenshot.
Copy/pasting full recipe text to websites and social media is prohibited. Excerpts, single photos, and links may be used, provided that full and clear credit is given to www.mypcoskitchen.com with appropriate link back to the original content.