Last updated on April 23rd, 2018 at 06:00 am
I've been experimenting with psyllium husk for the past couple of weeks and I'm so impressed with it! If you don't know what it is, it's a form of fiber made from the husks of the Plantago plant's seeds and it's most commonly known and used as a laxative. However, it's become quite popular in low carb baking and cooking as it acts exactly the way gluten does, as glue.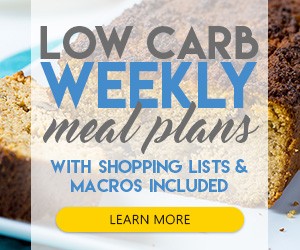 If you've ever tried baking with gluten-free flours, starch-free flours to be exact, you'll notice that baked goods don't always hold together and can fall apart easily.  By adding psyllium to the batter, it acts as glue and makes the starch free flours stick together. Psyllium husk powder can also be used to thicken sauces, gravy or soups, but it does have a gelatinous feeling to it.  When baking with it, most recipes will call for eggs or egg whites and/or hot water.  The hot water helps the psyllium activate and activates its 'glue' properties.
I heard about psyllium a while back and slowly have been experimenting with it, but not very much as it's pretty hard and expensive to get in Japan. When I first created this recipe, I had originally added flax seed meal to the batter, but it tasted horrible.  My boyfriend thought it tasted like tofu! So I decided to skip on the flax, and made him taste again and he didn't know it wasn't wheat buns! These buns were so fluffy that we couldn't tell they were low carb and gluten-free! I will definitely be experimenting with it more and making more baked goods with it because it's just awesome!  We all know it can be quite challenging to find gluten-free baked goods recipes that are also low carb, so this psyllium husk is definitely a life-savour!
I decided to make these buns for our Christmas dinner this year and they were a huge success! They go really well with different types of food, slabs of butter and are the perfect dinner rolls. They are also great for sandwiches or as toasts!  For this recipe, I used refined coconut oil, but make sure you use coconut oil that doesn't taste like coconut or else it will have a huge coconut taste! It usually says 'refined' or 'expeller pressed' on the jars for those that don't have a coconut taste!
Keto Psyllium Buns
Delicious low carb buns that taste just like multigrain bread!
Instructions
Preheat the oven to 180C/350F.

In a bowl, mix the dry ingredients with a whisk. In a separate bowls, mix the wet ingredients. Pour the wet ingredients into the dry ingredients and mix with a rubber spatula.

Slowly pour in the boiling water and continue mixing. The dough will be quite thick and expand a little as it absorbs the water. Separate the dough into 5 and form 5 balls with your hands (the batter is pretty sticky). Place the balls over parchment paper on a baking tray and bake for 30 minutes. Take out and enjoy!
Recipe Notes
*You cannot substitute the psyllium husk powder.
**Make sure to use REFINED coconut oil and not the normal extra-virgin kind.
***If you double the recipe, you may need to add 1-2 tbsp of hot water to the batter.
****All of our ovens are different, so if you find yours to be too moist, just add 5 more minutes in the oven, or cook them at 190C/375F instead for 30 minutes.
Nutrition Facts
Keto Psyllium Buns
Amount Per Serving (1 bun)
Calories 236
Calories from Fat 187
% Daily Value*
Total Fat 20.81g 32%
Cholesterol 42mg 14%
Sodium 41mg 2%
Total Carbohydrates 8.34g 3%
Protein 7.53g 15%
* Percent Daily Values are based on a 2000 calorie diet.