I was experiment making 90 second breads last night and thought I'd make a pumpkin flavour one.  It turned out great so I thought I'd make a bigger batch of the batter and make oven baked muffins instead!
I ran out of almond flour so I decided to use almond butter for this recipe instead. You can use either or as they both weigh the same amount dry or wet. I decided to use stevia to sweeten it as I didn't feel like using erythritol for this recipe.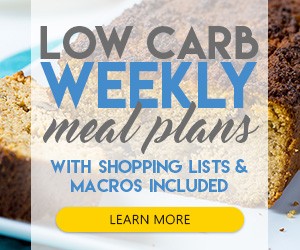 For this recipe, I actually used Artisana's almond butter.  I really like using it because it's very nutty and not as smooth as when I make my own.  Obviously creamy almond butter is amazing, but for this recipe, having chunks of nuts in the batter was even more delicious!
The texture was pretty squishy just like the 90 seconds breads.  I don't think it tastes like eggs as I mostly tasted pumpkin and pumpkin spice, but because of the eggs, it was definitely very squishy like I show in the picture below!
If you'd like to try more pumpkin recipes, check out my pumpkin whoopie pies, pumpkin pie and my pumpkin chocolate chip cookies!
Keto Flourless Pumpkin Muffins
Instructions
Preheat the oven to 190C/375F.

Mix all of the ingredients in a bowl with a whisk and pour into 7 muffin cups. Place into the oven and bake for 18 minutes.

Take out, let cool completely and enjoy!
Nutrition Facts
Keto Flourless Pumpkin Muffins
Amount Per Serving (1 muffin)
Calories 185
Calories from Fat 142
% Daily Value*
Total Fat 15.83g 24%
Polyunsaturated Fat 0.87g
Monounsaturated Fat 1.81g
Cholesterol 115mg 38%
Sodium 36mg 2%
Potassium 38mg 1%
Total Carbohydrates 5.99g 2%
Protein 7.74g 15%
* Percent Daily Values are based on a 2000 calorie diet.